THE BRONX – The Yankees came out swinging, scoring seven runs off the Baltimore Orioles to kick off the 2019 regular season in style.
After a Brett Gardner strikeout in the top of the first, Aaron Judge and Giancarlo Stanton rifled singles against the shift to set the table for Luke Voit.
After 428 feet and 5.4 seconds of hang-time, the Yankees jumped out to a quick 3-0 lead. The Yanks tacked on in the third, as Judge singled, Stanton and Voit both walked. Then, Miguel Andújar rapped into a 6-4-3 double play that allowed Judge to score.
The O's manufactured an unearned run after Trey Mancini singled on a grounder to Andújar and Greg Bird couldn't handle the throw. It was ruled an E-5 on Andújar though that scoring is rather dubious and unfair to the 23-year-old third baseman. Rio Ruiz followed with a single to score Mancini.
The Yankees got that run back plus one when Andrew Cashner walked the top three hitters consecutively to load the bases. Mike Wright came in to relieve, and promptly hit Voit on the elbow with a 1-0 fastball. Andújar came up next and drove a 2-0 slider to the left-field warning track for a sacrifice fly, one of two Andújar fly balls to the track that will be dingers come July.
The Orioles got a legitimate run in the sixth. Dwight Smith Jr. singled, moved on a Jonathan Villar groundout and scored on a rocket double by Mancini hit over the head of Gardner.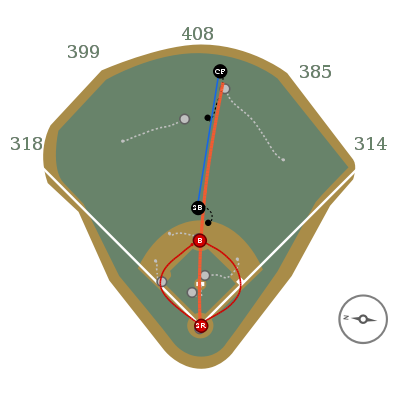 One final Yankees insurance run came in the bottom of the eighth. Greg Bird, who was sitting on top of three strikeouts (two swinging, one called on a pitch in the other batter's box), smacked an 0-2 pitch from lefty Paul Fry into the bullpen in right-center field.
Masahiro Tanaka finally got over the Opening Day start struggles that he'd had in his other outings. Over 5⅔ innings, he allowed just the two runs (one earned) while scattering six hits and recording five strikeouts. Adam Ottavino made his Yankee debut to clean up the sixth, and recorded three K's in his 1⅓-innings outing. Zack Britton and Aroldis Chapman each allowed a hit in scoreless eighth and ninth innings, respectively.